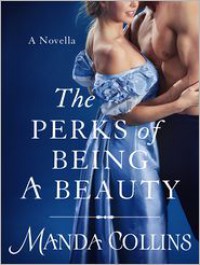 I have not read Manda Collins' Ugly Duckling series, but I do know that Amelia Snow was the snob who bullied the ducklings unmercifully. Now, her star has fallen. Her mother died, leaving Amelia penniless, and she has accepted the job as paid companion to an industrialist's daughter. Lord Quentin Fortescue, younger son of a duke, was the first man that Amelia turned down, and in the eight years since, he has been married and widowed. Now, they are thrown together at a house party hosted by Amelia's employers.
As we learn more about Amelia's younger years, her mother's behavior, and her efforts to atone for her wrongdoing, she becomes a sympathetic character.
There is an inherent problem with novellas; there's precious little space to convince the reader of the couple's love. And even though Quentin and Amelia had a history, I just could not become invested in their rekindled passion. I suspect, however, that fans of the series will enjoy seeing it wrapped up in this manner.